Super Energy Spirulina & Chlorella Vegan Dietary Supplement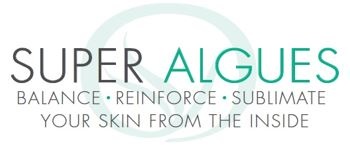 We are pleased to present you a really great product novelty from Thalion in our store:

Super Energie Spirulina & Chlorella Organic Vegan Dietary Supplement from Thalion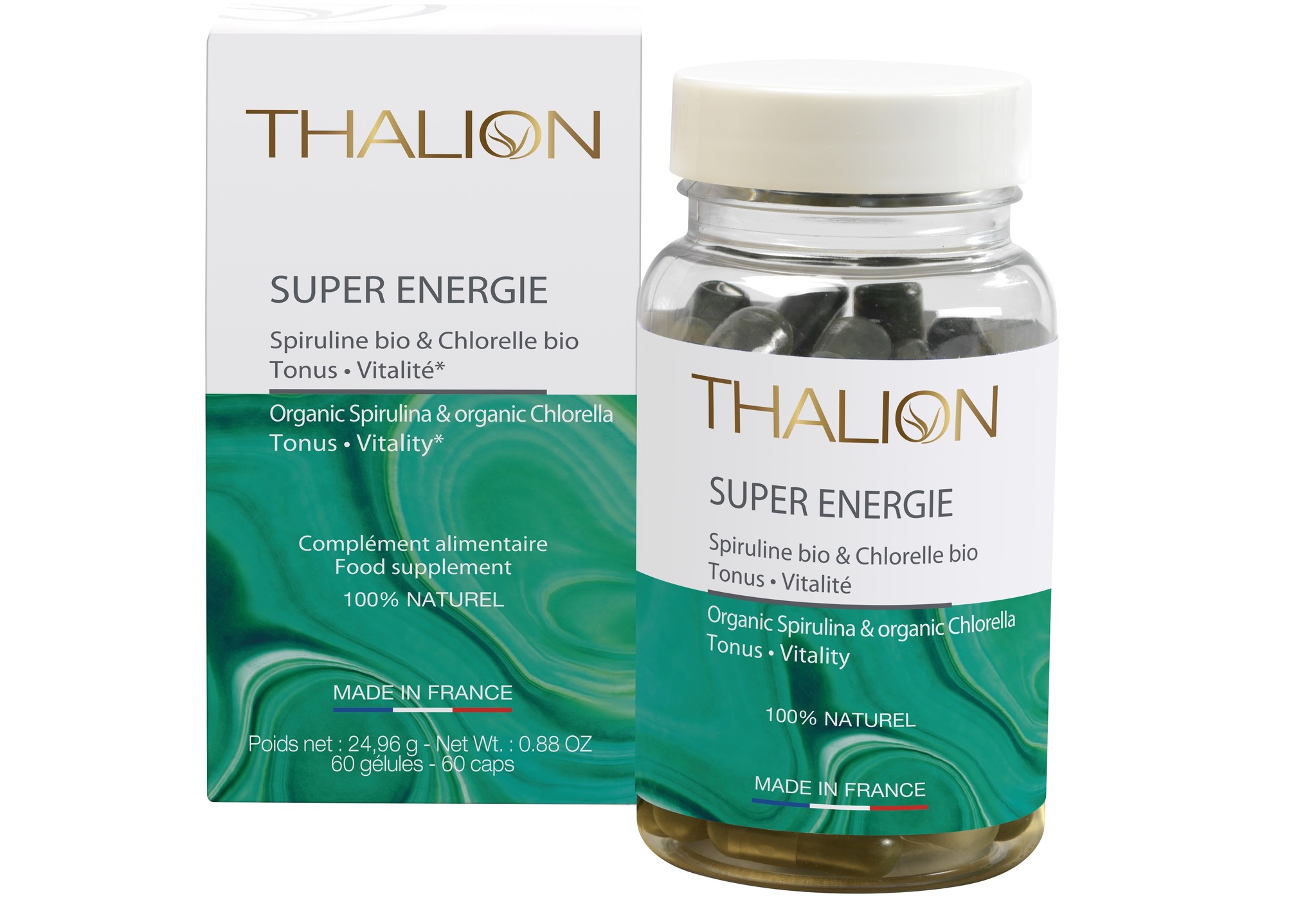 The new power algae product, Super Energie by Thalion is now available in our store.
A high energy organic vegan super food dietary supplement.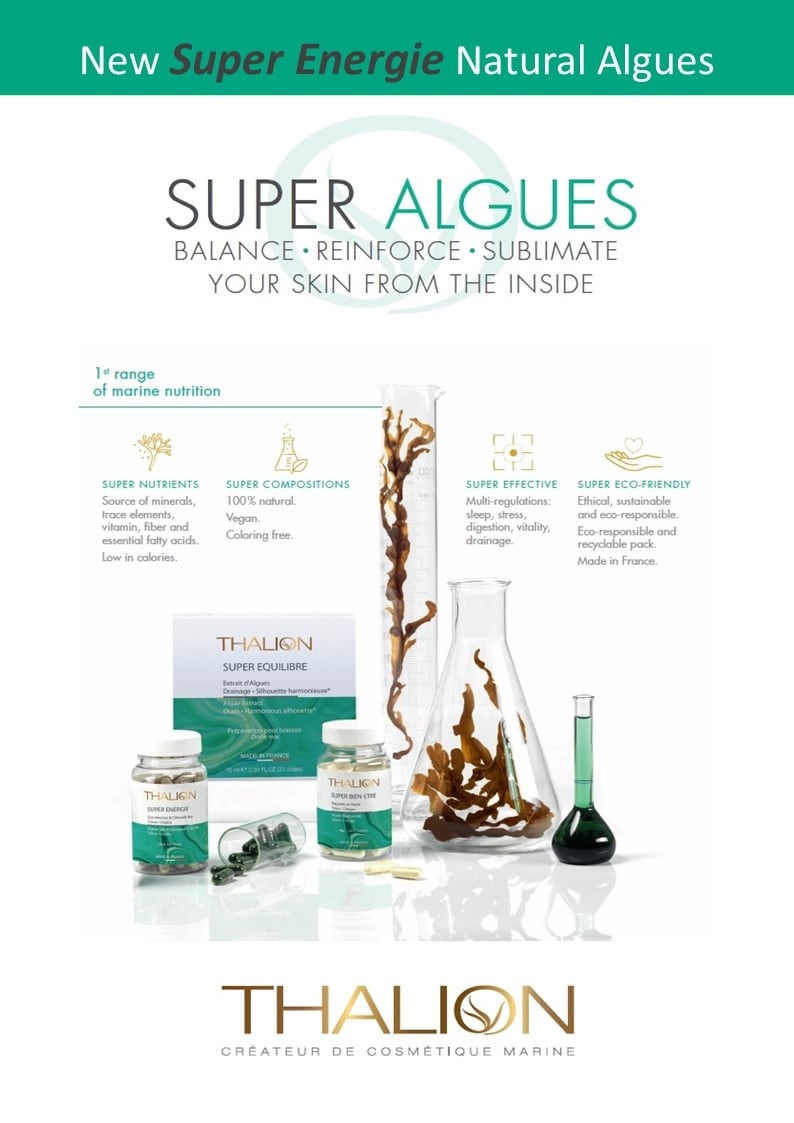 The Super Algae Cocktail is a true ally for a life full of energy.
The special combination:
"Spirulina" helps improve tone and vitality. "Chorella" helps detoxify the body while supporting the immune system.
What this special algae cocktail can do
It helps to support the proper functioning of the immune defense system.
Strengthens the activity of the natural defenses.
Helps to improve and strengthen the tone and vitality in us.
The activity and energy of the body are enhanced thanks to a cocktail of proteins, vitamins minerals and trace elements.
Super energy seaweed in the combination of Spirulina & Chlorella.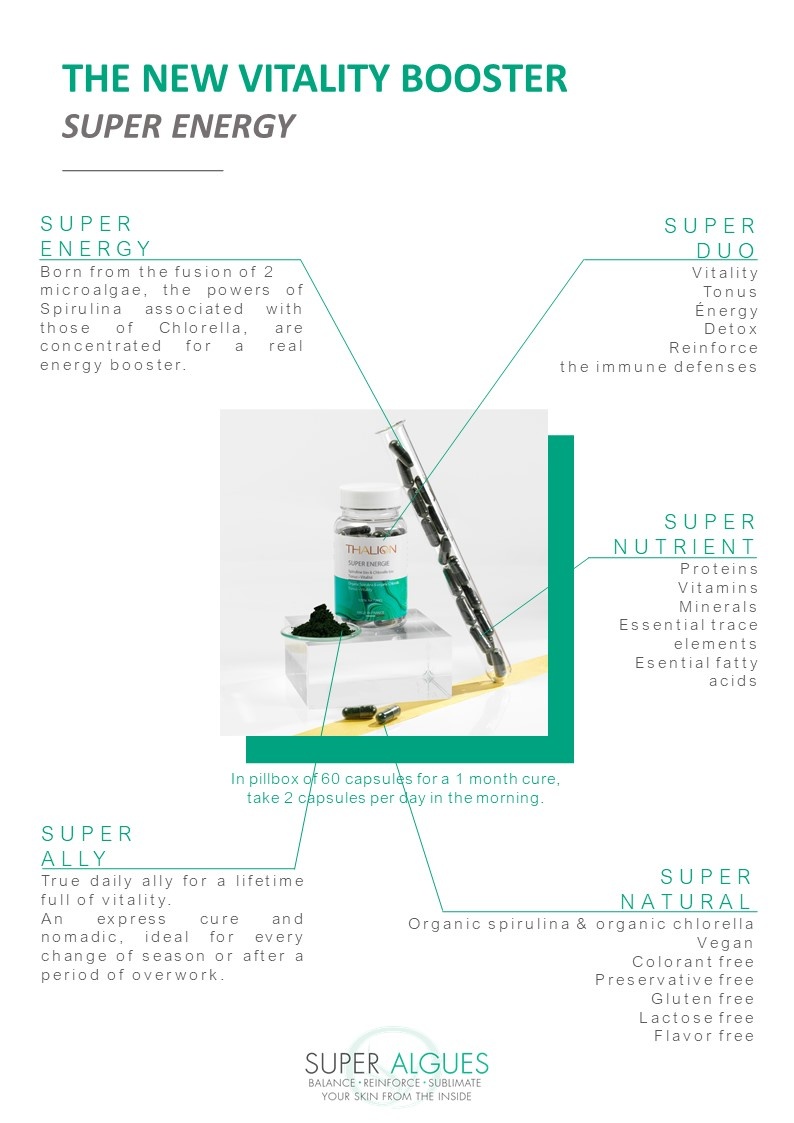 The two super algae: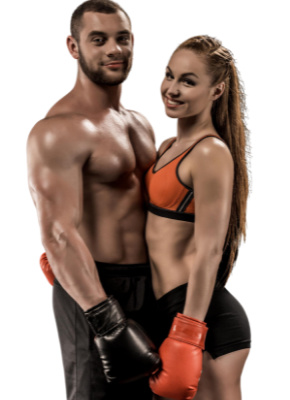 1. chlorella vulgaris or also chlorella pyrenoidosa
Chlorella the super algae with the outstanding health properties shines in a bright deep green color in its special form, which is exceptionally rich in nutrients.
Chlorella algae owes its bright deep green color to its extraordinarily high chlorophyll content. Chlorophyll is also called the "green blood" of plants, because its chemical structure is almost identical to the human blood pigment hemoglobin.
A true marine treasure from a preserved wild environment concentrate in the alga Chlorella.
A miracle seaweed with high detox effect.
Chlorella algae is often used to detoxify the human body.
It has highly efficient cleansing and detoxifying powers due to its special nature, which traps heavy metals and toxins in the body through its fibrous membrane.
The special ability to optimize cell renewal and excellent antioxidant action.
2. spirulina platensis
This small blue-green algae is one of the most nutrient-rich algae and plant-like creatures. Its protein content is almost 60 percent. No other plant-based (vegan) food has such a high protein content. This high protein content is especially useful for athletes in muscle building.
It consists of more than 112 minerals and trace elements, which are essential for the proper functioning of the body. while low in calories and fat.
Spirulina is low in calories and fat with very high protein content.
Exposed to various continuous stresses, they synthesize many molecules of interest for the balance, strengthening and sublimation of the skin from within.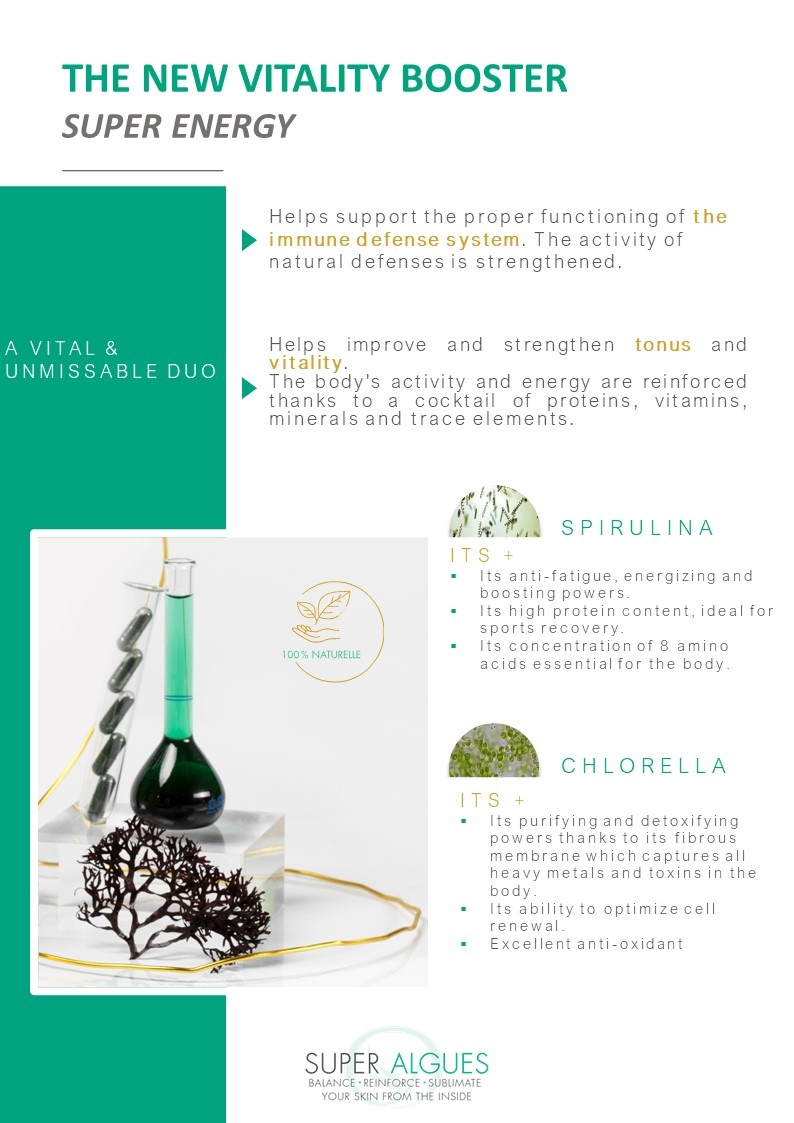 THALION, expert in marine nutrition, integrates these super algae in the heart of its formulas.

Directions for use
Take 2 capsules per day with a large glass of water. Do not exceed the recommended dose. This product is not a medicine and cannot replace a varied, balanced diet. Keep out of reach of children. If you are pregnant or breastfeeding, ask your doctor for advice.
Be sure to check out our other high potency nutritional supplements from Thalion here. 
Thalion super algues dietary supplements:
View our Thalion Tea varieties here: