Rosacea facial skin redness
What is rosacea?
Rosacea, also known as copper rose and copper acne, is a skin condition that occurs predominantly around the midface, usually beginning between the ages of 30 and 40 and often becoming much more severe between the ages of 40 and 50. It can show similarities to acne, but the underlying conditions are different. Rosacea is manifested by patchy, sometimes scaly redness, but also swelling of the facial skin, as well as inflammatory papules and pustules. Later, especially in men, tuberous growths may also develop on the nose.
Cosmetic care
Appropriate care that soothes the skin and reduces inflammation prevents irritation and redness. The basis of daily treatment at home is cleansing the skin with mild agents. When drying, rubbing the face should be avoided. Good results are achieved with facial massages. This involves massaging the face in the morning and evening with light, circular movements using a lubricant. Creams should be free of fragrances and preservatives and not too greasy. UV protection is advisable for the day cream, and obligatory when staying in the sun (SPF 50 is best). Applying a light, suitable make-up or covering foundation (in a green shade) does not worsen rosacea, but has a positive influence on the patient's quality of life.
Text Source: https://de.wikipedia.org/wiki/Rosazea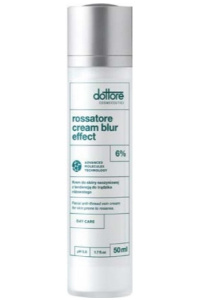 Face care cream for skin prone to rosacea (rosacea). Reduces the intensity and surface of skin redness.
Size 50 ml
Reduction of the intensity and surface of skin redness,
reduced hyperactivity, reduced frequency of the appearance of erythema,
rebuilt hydro-lipid layer of the skin,
uniform skin tone.