Cellulite and how to combat it
Cellulite: How it develops and how the skin texture can be improved!
Cellulite is not a disease but merely a change in the structure of the skin. Cellulite manifests itself as dents in the skin, mostly on the thighs, hips, buttocks and also the upper arms. The causes of cellulite are varied and often have individual reasons, such as heredity. From a health point of view, this skin change is harmless, but it often disturbs the well-being of the affected women when an aesthetic problem occurs. 
The development of cellulite is easily explained: A woman's skin consists of three different layers. The bottom layer is of particular importance - it contains the connective tissue and fat cells. And that is a good thing! These fat cells protect against heat loss and store important nutrients. The proportion of fat cells is individual for each woman. 
Another important building block for the skin is collagen. This ensures that the connective tissue remains elastic and firm. The collagen fibres are arranged in a row, next to each other and contain stretchable spaces. If the connective tissue is weak, for example due to a lack of collagen fibres, the underlying fat cells squeeze into these spaces, making them visible on the surface - this is how the dimples typical of cellulite appear. However, cellulite can also be purely hormonal.
Attention: Men very rarely have cellulite because their skin structure is different and the fat cells cannot penetrate the connective tissue so easily!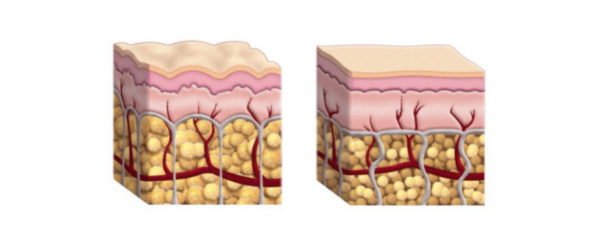 There are different forms of cellulite:
Aqueous cellulite: The reason for cellulite here is water retention, which can be caused by poor blood circulation. In this case, toxins should be drained to reactivate the circulation.
Adipose cellulite: This type of cellulite is often associated with being overweight and can therefore be reduced through natural fat reduction.
Fibrous cellulite: Fibrous cellulite develops over a longer period of time, is compact and often associated with pain. Here the tissue must first be softened before the cellulite can be actively combated.

But what actually helps against cellulite?
A healthy diet: A balanced diet with less fat and sugar, as well as white flour and more fruit and vegetables, prevents cellulite. This also applies to all drinks. Excess weight has a negative effect on the development of cellulite, as do extreme diets.
Sport and plenty of exercise break down fat cells and strengthen the connective tissue.
Cosmetics that support cellulite reduction:
Anti-cellulite massages stimulate blood circulation and fat burning. Lymphatic drainage works wonders especially for watery cellulite.
Peelings improve the body's microcirculation and problem areas immediately appear smoother and firmer.
Creams (also in combination with massages) work especially well in combination with caffeine, ginseng, L-carnitine or horse chestnut extract. These stimulate the fat cells, promote lymphatic drainage and remove excess water.

Our product recommendation